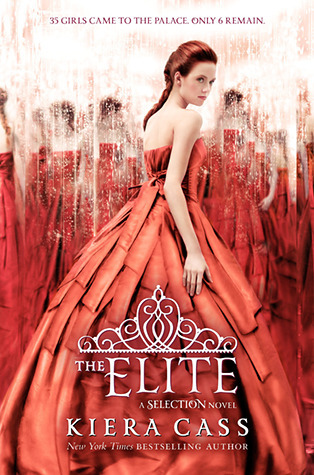 Title: The Elite
Series: The Selection, Book 2
Author: Keira Cass
Published April 23rd 2013 by HarperTeen
-------------------------------------------
Readers who enjoyed any of the following book series may enjoy this book:
®
Shatter Me
Trilogy by Tahereh Mafi
®
Under the Never Sky
Trilogy by Veronica Rossi
®
The Chemical Garden
Trilogy by Lauren DeStefano
®
Eve
Trilogy by Anna Carey
®
Unearthly
Trilogy by Cynthia Hand
®
Matched
Trilogy by Ally Condie
Just like with The Selection, I was sucked into America's world.

I love this fluffy dystopian, love story.

This book has way more excitement than the last one—more heartbreak, more indecisive hearts, more rebel attacks, also a very epic Halloween party.
®
I love that Maxon throws a Halloween ball per America's request. It seems really sweet, and the party seems fun.
®
I absolutely LOVE Maxon's secret library full of banned books.
®
I'm so glad that America's family gets to enjoy the castle.

Seeing May enjoying the castle life is fantastic.
®
I love the party planning that the Elite get to do.

It shows the girls that they aren't just competing for Maxon's hand, but also to be royalty.
®
The Italian ladies are fantastic.
®
I don't want to give this part away, so I will be vague.

I HATE the day after Halloween.

It's terribly heartbreaking.

It makes me so mad at the society.
®
I hate, hate, hate, hate King Clarkson. America is stupid, but I HATE Clarkson.
Now, I just can't wait to read
The One!
Oh and also the short stories--
The Guard and The Prince!