Title: The One
Series: The One, Book 3
Author: Keira Cass
Published April 24th 2012 by HarperTeen
---------------------------------------------------------------------------------------
If you are curious about the other two books in the series click on the cover to take you to my review.
Hunger Games
meets The Bachelor—I know it sounds super lame and cheesy.

But, I was almost immediately got sucked into this story.

I gobbled up the first two books, and had to wait for the third one.

The author wrote the first book after she thought about the differences in Ester and Cinderella, wondered whether or not they ended up happy.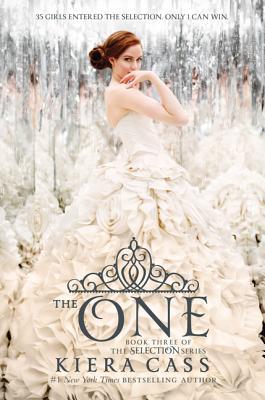 Teen girls who love a little (or a lot of) romance in their YA books, and those who dream of their Prince Charming will devour this book.

Also fans of the Delirium Trilogy, Matched Trilogy by Ally Condie, or The Uglies Quartet will enjoy this book.

If you like the romance part of Divergent or The Hunger Games opposed action-packed parts of it. Basically, if you are a teen girl who likes dystopian love… read it!
This book starts off with a lot of excitement—rebel attack, news that America is now an aunt, and growing tension between the Elite girls.
While King Clarkson is away two Northern rebels enter into the palace seeking a meeting with Prince Maxon and Lady America. The rebels—August Illéa and Georgia Whittaker—tell Maxon and America that the Northern rebels want to support the crown once Maxon is king.

In return they want an end to the caste system.

The Northerners would love to see America take the throne as Maxon's wife.

This angers Maxon because once again someone is trying to make his decisions for him.
After the king returns he announces on The Report that the rebels are targeting Two citizens will be continuing down the line (Twos, Threes, Fours, and Fives) as long as the Elite are still in the palace.

The rebels believe this is a way to cause the citizens to be fearful and mistrust the monarchy.

America encourages Illéa's citizens to fight back; she believes that empowering the citizens will be best for the country.
One day while America is headed for the library she comes across Celeste who is crying.

The girls have a heart to heart and begin to understand each other a little bit better.

Celeste confesses that she doesn't love Maxon, and only wants the fame of being queen.

Celeste knows that her career as model will end when she grows old and isn't beautiful anymore; she wanted to the crown so that she can stay in the limelight.

America forgives Celeste for all of the terrible things she did in the past and they become friends. Not as close as America and Marlee, but it is still a meaningful friendship.
Oh, this part is intense!! America and Maxon have a secret meeting with August outside the castle walls.

To get out of the palace, America asks Aspen and Avery for help.

August reveals to the couple that the Southern rebels have already killed hundreds of Twos.

He asks Maxon for weapons to fight the Southerners.

Maxon is unsure whether giving them the weapons would be a smart idea, but he agrees to think about it.

As Maxon, America, Aspen, and Avery tried to leave to return to the castle they are attacked by a small group of Southern rebels.
America is shot, and is separated from the group.

She as hides in an alley waiting for morning she meets girl about her age.

The girl helps her and tells America about how tragic her life is—full of loss and now prostitution.

When America is found by Maxon and Aspen, she takes the girl back to castle to live as a kitchen maid.

This once again proves that America's kindness is pure and not for the benefit of the Selection or popularity.
The Elite girls have a new challenge.

There will be a tea party hosted by the queen, and each girl is to invite two guests to the party.

This will help the Illéa citizen's know what type of connects the Elites has.

America decides to invite Nicoletta, the Italian princess she met during a party earlier in the Selection.

Her second guest is Georgia, the Northern rebel, under the guise that she is a friend from Carolina.

During the tea party Georgia asks Nicoletta for support in defeating the Southern rebels.

Nicoletta decides to support Georgia and the chance that Illéa will one day be casteless.
The next step in the Selection process is much, much less fun than a tea party.

The girls are to participate in the Convicting—an event where each girl must public punish a criminal with imprisonment.

America realizes that the king is falsely imprisoning the criminals, and giving them way more time than their crimes deserve.

Once again America defies tradition and the king; she uses the jewelry that was given to her by Maxon to buy the criminals freedom.

This infuriate the king, he wants her to be sent home immediately; Maxon explains to King Clarkson, that America is now way more popular than before and cannot be sent home.
On Christmas Day, Maxon and America have a very romantic day.

He shows her his room and his life collage—a huge wall-sized collage of photos from his life.

She sees that she is a big put of it.

They have a sweet moment, but both are too afraid to say "I love you."

A guard enters the room and informs America that her father has passed away due to a heart attack.

America will spend three days at home with her family.

She will be accompanied by several guards including Aspen.
I cannot in good conscience give away anymore of the plot.

I will say that the rest of this book includes the most intense chapters of this series.

Come on just read the book! It's so good.
I really enjoyed this book, and thought it was a good ending to this series.
·
I love that Celeste and America became friends.

I think Celeste is a strong character with a big personality which can use for good or evil.
·
I love that the friendship between America and Aspen is becoming more like friendship and not a dirty secret.

The fact that America asks him to help her leave palace with Maxon shows that Aspen will always be a part of her life.
·
I think having America's father die was a good move of Kiera Cass's part.

I am super, super glad that it wasn't at the hands of the rebels.
·
I liked that I got to see more of how America and her family interacts with each other.
·
I think the end of the book was very good; life after tragedy can be happen!
·
Come on America and Maxon! Just say it…! It's three little words; just say "I love you."

They can be so frustrating.
·
I dislike some parts of the ending, but I don't want to spoil anything—I'll keep it to myself.