Forgive Me, Leonard Peacock
Discussion
Title: Forgive Me, Leonard Peacock
Author: Matthew Quick
Published August 13th 2013
By Little Brown Books for Young Readers
---------------------------------------------------
Fans of Winger, Dr. Bird's Advice for Sad Poets, or It's Kind of a Funny Story should try FM,LP.

This book has the same type of feel as The Thirteen Reasons Why by Jay Asher, because the reader is simultaneous dreaded and curious about the tragedy at the end of the book.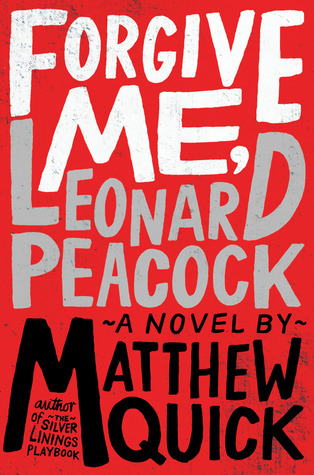 The book is about a boy who doesn't fit in and has a terrible home life.

On his eighteenth birthday Leonard Peacock goes to school to kill his bully, Asher, and himself.

Leonard has several tasks he must complete first.

He must delivery four gifts to the four people he cares about.
I read this book in one day.

It was very, very intense.
>
Herr Silverman is one of the best literary teachers of all times I would put him on the list with Bill (from Perks of Being a Wallflower), Miss Honey (Matilda)or Mr. Feeney (from Boy Meets World—not literary, but still one of the all time greatest fictional teachers)
>
Walt and Leonard's relationship is very sweet.

Neither one of them has very many friends outside of each other, so I know that they are important to each other.

Even though they mostly just watch old movies together, I know that they matter to each other.

It's sometimes hard for men to show affection and gratitude for each other, but through old movie quotes Walt and Leonard are able to express their gratitude to each other.
>
I like how much Leonard cares about Baback's music.

Yes, it's a little odd. I'm not sure if you can even count them as friends, but they are something—Leonard and Baback.
>
At first I was confused by the "Letters from the Future", but after Herr Silverman explained then I think they are fantastic. I know people in my life that could have benefited from letters like that.
>
This is one of those books that makes your heart ache.

I think that good books often make you want to tear down the fourth wall.

This book makes me want to scream out to the characters,
o
"Leonard, you do matter!"
o
"Walt, just say 'Happy Birthday!'"
o
"Baback, don't be so jaded."
o
"Linda, hang up the phone and be present in your son's life."
<
Leonard's mom makes me so mad.

She doesn't care anything about son or how her life affects him.

Linda is so self-centered that it is painful.
<
It is so painfully obvious what Leonard is going to do.

Like Herr Silverman says, Leonard is dropping some serious warning signs.

In fact, Leonard might as well be screaming, "I WANT TO END MY LIFE!" It is so frustrating that no one (except Herr Silverman) interferes.

They are just so busy with their lives or jaded to his pain.