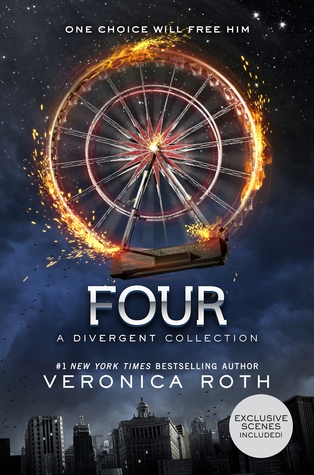 Title: Four
Series: Divergent Series, Stories 0.1-0.4
Author: Veronica Roth
Published July 8th 2014 by HarperCollins Publishers
-------------------------------------
I think readers of the Divergent trilogy should definitely give Four a try especially those who are in love with Tobias.
Umm… I really am not sure what to put for a summary.

It's just a repeat of a chunk out of Divergent, but from Tobias's point of view.

It was nothing new and exciting.
I enjoy listening to the four short stories, The Transfer, The Initiate, The Son, and The Traitor.

I was glad to find out that they were in chronicle order, so it was easy to follow. I am a HUGE fan of Uriah, and was very pleased to find out more about his family and Zeke.

I also enjoyed learning more about Tori and George Wu.

Since the main characters of the original three books were both Abnegnation by birth, it was good to see how family life was for the Dauntless born.
In addition to the four short stories, Four included a couple of random chapters from Divergent rewritten in Tobias's point of view.

I did not enjoy this as much as the short stories.

They seem choppy like they were added as a second thought.

It was hard to follow them since they were just a chapter and not included in the complete story.